FUE HAIR TRANSPLANT IN DELHI
It can be a very traumatic experience to lose hair, but when someone tells you that there is hope for you and you can get your hair back in doing so then it seems nothing less than a miracle. Follicular Unit Extraction (FUE) is a popular hair transplant method that can sort your problem of hair loss or baldness and can bring fulfillment to your hope and make it come true.
What are the causes of female & male pattern baldness?
If you are unsure whether a hair transplant is the right option for you then knowing the cause of your hair loss can help you to make the right decision. A few of the reasons are hereditary in female or male patterns of baldness which are caused due to certain sex hormones which can trigger hereditary hair loss.
In other cases, hair loss may occur due to a pause on the cycle of hair growth and sometimes due to any traumatic events or surgery and most commonly due to illness.
WHAT IS FOLLICULAR UNIT EXTRACTION?
Dr. Rakesh Jangra, one of the top hair transplant surgeons in Delhi says that it is the most advanced and effective method of hair transplant which can provide complete and natural results. There are no incisions made in this method, thereby leaving no linear scars on to surface and it uses suction in which individual grafts are removed. Once removed, the hair transplant surgeon will then dissect it into individual grafts under a microscope followed by placing each graft in the recipient part or the affected area. In other words, it involves the removal and implantation of individual hair grafts on the scalp.
BENEFITS OF FUE HAIR TRANSPLANT SURGERY IN DELHI
Lesser Downtime Procedure
The small punches require less time to heal than linear scars. The wounds will heal within just a few days. No stitches or scalpels are used.
Invisible Virtual Scars
FUE as you understand makes no linear scars and it involves making very small punches round in shape to the back of the head. These punches consist of a follicular unit that comprises a group of one to four hairs which leaves small dot-shaped scars on your head. This leads to scars that are very minute and are easier to hide, unlike linear ones. So, once the hair starts to grow, no scars will be visible.
Lesser Pain
Since small punches are made into your skin, it leaves very little pain to bear. Most of the time no medication such as painkillers is required.
Natural-looking hairline
FUE leaves you with a natural-looking hairline and thicker head of hair with no plugs.
FUE IS A SESSION BASED PROCEDURE
A maximum of 800 follicular units are transplanted in a single session. This means that it cannot be completed in one session and you will have to undergo three or four sessions to achieve the result you want. For more information about FUE Hair Transplant Surgery in Delhi, please feel free to visit or contact Rakshaa Skin Clinic & Hair Transplant Centre.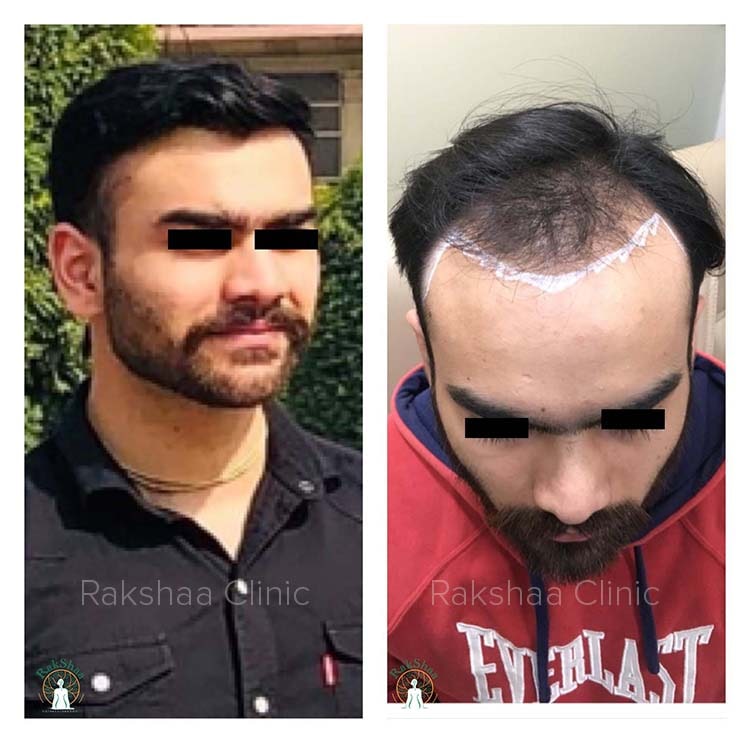 *Opinions / Results may vary from person to person.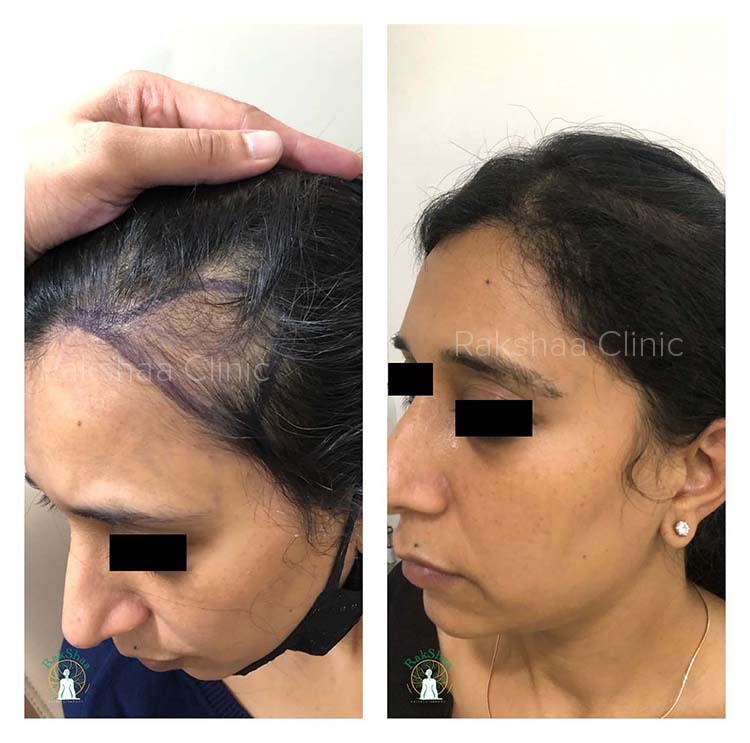 *Opinions / Results may vary from person to person.
*Opinions / Results may vary from person to person.