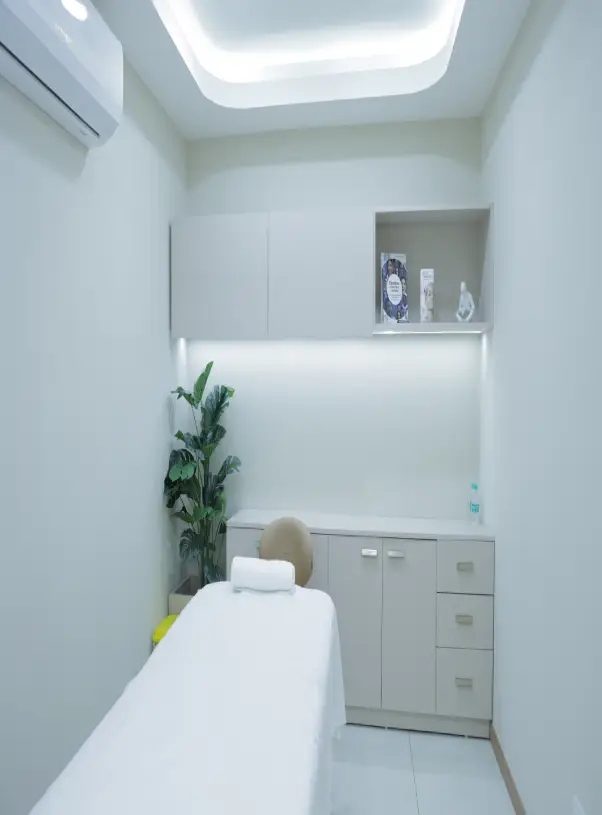 Skin Clinic in Delhi (Pitampura, Rohini)
"Aesthetic Dermatology is like adding salt to your favourite dish while cooking. The recipe has its own unique flavour & taste which is important, just like everyone is beautiful in his/her own right. Aesthetic Dermatology should be used only as much needed and only to enhance the beauty that already exists. A good dermatologist, like a seasoned cook, knows exactly how much salt to add."
– Dr. Rakesh Jangra
The above statement embodies the raison d'être for RakShaa Skin Clinic and has been the guiding force behind all our actions. As a leading Skin Clinic in Delhi, we strongly believe that a patient coming to us, should be given the right guidance as per the problem being faced by him/her and that's the exact recipe for a happy, satisfied and content patient.
We at RakShaa Skin Clinic, best skin clinic in Pitampura offer the entire spectrum of skin & hair treatments ranging from general skin & hair conditions to advanced aesthetic procedures using various lasers and anti-aging treatments.
Enhancing beauty is a tricky feat to achieve. "It's something akin to the butterfly effect, sometimes a small, seemingly insignificant change can bring about a huge improvement in ones' appearance. It's important to have the eye, to identify this change and the right skillset & experience to execute this change using the right treatment." It's heartening to see how being positive and confident about your appearance can prove to be a multiplier for significant improvement in personality and overall personal and professional development.
KNOW MORE ABOUT RAKSHAA SKIN . HAIR . LASER
Rakshaa Skin Clinic, best skin clinic in Rohini caters not only to uplift your skin and body but to your spirit as well. Personalized and holistic skincare by highly skilled medical professionals is our USP. We use only the finest products and equipment that are all clinically proven to deliver aesthetic enhancement with realistic expectations. We work with clients to design a skin treatment plan that not just transforms their skin, but also brings out healthier and better-looking skin.
We have at our disposal, the latest technology & techniques to achieve the high degree of patient satisfaction we so strongly strive for. With state of the art, US-FDA, and European CE-approved laser devices & equipment, we ensure that our patients get the best there is when it comes to skin & hair treatment. This helps us achieve better and longer-lasting results in fewer impactful sessions. Patient safety is our utmost priority and our advanced equipments help us to ensure that all safety parameters are met during procedures.
A glimpse of the state-of-the-art equipment that we use:
Alma Soprano ICE Platinum: World's only US FDA approved triple-wavelength laser hair removal device.
ResurFX Laser by Lumenis: The only true fractional non-ablative technology for stubborn acne scar removal, stretch marks removal, facial rejuvenation.
Alma CLearlift 1064nm Q-Switched Nd: YAG: For laser tattoo removal, pigmented and vascular lesions, nail fungus, etc.
Pollogen Geneo by Lumenis: An advanced facial device offering a unique combination of advanced technologies, Tripollar RF, OxyGeneo, and Ultrasound that work both on the outside and the inside of the skin.
Rakshaa Skin Clinic was founded by Dr. Rakesh Jangra to provide uncompromised and full-spectrum dermatologic care to one and all at an economical cost while ensuring patient safety at every step of the way.
At Rakshaa Skin Clinic, every single day we strive to combine knowledge, skills, advancements in dermatological technologies along with ethical practices. We believe in innovative treatment solutions to ensure optimum results.
Our core values are – transparency, respect, quality, and accountability. Hiring the best medical staff and having standard operating procedures in place enable us stick to our principles and meet patient expectations.
Discover the wonders of our antiaging treatment helping you build your perfect Skin, Face, Hair and Foot Care Routine.
Ever noticed why celebrities have perfect-looking skin & hair and how they manage to look young even in their 50s? Even after dealing with sun damage due to their daily lifestyle and outdoor shoot, they make sure that their skin looks the best. The secret behind this is their visit to a dermatologist regularly to enhance their skin and hair health. They make sure to maintain a good skincare routine and a healthy lifestyle by following the tips shared by their dermatologist. Celebrities simply use the tools that are available to everyone. They often see their dermatologist on a regular basis to determine which treatments, procedures, and products are best for them. Anti-wrinkle injections, medifacial, mesotherapy, P-R-P. Carbon laser peel, microneedling, chemical peels, laser skin resurfacing, fillers, and IPL/photo facial are some of the procedures they usually undergo (as recommended by their dermatologist) to maintain their skin health. Dr. Rakesh Jangra is an expert dermatologist in Delhi (Pitampura, Rohini), and has performed 5000+ skin procedures and has helped many men and women to achieve the healthy skin and hair health they desired for!
A doctor or medical professional who specializes in skin, hair, and nail care is called a dermatologist. There are approximately 3,000+ medical conditions that can be treated by a dermatologist. Eczema, hair loss, pigmentation, skin tags, STDs skin infection, vitiligo, alopecia, hair fall, scabies, urticaria, acne scar, chickenpox, nail problems, skin cancer, and acne are some of those conditions treated by a dermatologist. A dermatologist can also check for signs and symptoms of major underlying conditions and provide a treatment plan accordingly that helps one to achieve safe outcomes. They may be able to detect symptoms that indicate an inside problem, such as problems with the stomach, kidneys, ovaries (PCOS), or thyroid, by looking at the skin and conducting several diagnostics tests. If one is experiencing any dermatological concerns they can consult Dr. Rakesh Jangra at Rakshaa Skin Clinic. Dr. Rakesh Jangra specializes in treating general and cosmetic conditions which affect the skin, hair, and nail. Visiting a dermatologist regularly might help the patient to avoid more serious problems like skin cancer at the initial stages. If you're having problems with your skin, a dermatologist can help you get the treatment you need. Consult Dr. Rakesh Jangra, the best skin specialist in Delhi (Pitampura, Rohini) for more information.
Dr. Rakesh Jangra is the most popular and visited a dermatologist in Delhi and people of all ages visit him to avail the benefits of cosmetic and as well general skincare treatments. He offers world-class treatment and uses the best technology for treating concerns of the skin types. Dr. Rakesh Jangra, helps his patients achieve the best possible results, whether specific treatment for a medical skin condition is needed or simply if the patient wants to look the best. Dr. Rakesh Jangra makes patients aware of the condition and provides treatment options that are customized according to the skin type of the patient. He has extensive experience in treating patients with a variety of skin problems and offers advanced dermatological treatments for acne, open pores, autoimmune skin problems, pigmentation, skin tags, moles, acne scar, double chin, aging skin issues, warts, dry skin, vitiligo, and other skin conditions. Consult the best skin specialist in Delhi (Pitampura, Rohini), Dr. Rakesh Jangra at Rakshaa Skin Clinic to get rid of any skin concerns.
There's no better feeling in the world to see our patients' healed from their skin & hair problems/diseases. To share this joy with you, here's a picture gallery consisting of some wonderful results achieved by Dr. Rakesh Jangra for his patients.