VAMPIRE FACELIFT IN DELHI
Vampire Facelift or Vampire Facial is an effective solution for anti-aging & facial rejuvenation. It is very popular worldwide for improving facial skin tone and texture. Several national and international celebrities have acknowledged the use of this technique for their fabulous and stunning-looking skin.
Workplace stress, multitasking, and increased pollution take a toll on the skin. As we grow older, we begin to notice the appearance of dark spots and other types of pigmentation. Tan lines and blemishes are also common among women in their late twenties. Women also experience severe acne and melasma after pregnancy. There are a variety of products in the market that claim to help enhance skin tone, but only a few of them actually work. Is there a way to fix this?
Yes! At Rakshaa Skin Clinic, one can get all skin pigmentation problems resolved with the best Laser toning in Delhi. Before we discuss more of its benefits, let us understand what laser toning is. 
Benefits of Vampire Facelift
Results in an immediate glow.
Closure of small pores.
Addition of youth to the face. 
Improvement in skin tone.
Improvement in overall skin quality.
Quick treatment.
Minimal to no downtime. 
How does it work? 
By design, our body has the ability to heal itself naturally and also slow down the aging process. Collagen is what gives the skin a firm and youthful appearance. As we grow older, less collagen is produced causing the skin to sag and appear wrinkly. Vampire Facelift in Delhi performed by Dr. Rakesh Jangra can slow down the aging process by promoting new collagen production and its remodeling to give the skin a youthful appearance.
Is Vampire Facelift safe? 
It is a safe treatment as we use the patient's own blood to form collagen growth factors with the help of a centrifuge machine in a sterile environment. One must choose a qualified dermatologist to avoid any unwanted risks or mishaps.
How is it performed?
First of all the skin is cleansed to remove makeup and dirt. A topical anesthetic (numbing cream) is applied on the skin. The blood drawn from the patient (usually from the arm) is placed in a centrifuge machine to obtain growth factor concentrate. Then it is injected into the facial skin by using fine needles. Once the concentrate is injected into the skin it helps in new collagen synthesis. This eventually results in tightening of the skin.
Post-procedure care 
There may be redness of the skin after the procedure, which wears off in a day or two. An ice pack can be used in case there is any mild swelling after the procedure.
How many sessions are needed to see the best results? 
On average, 8-10 sessions are needed for bringing out the best result, but it could vary depending on patient age and other underlying conditions. At RakShaa Skin Clinic, we recommend a gap of 30 days so that the skin can rejuvenate itself and provide the best results.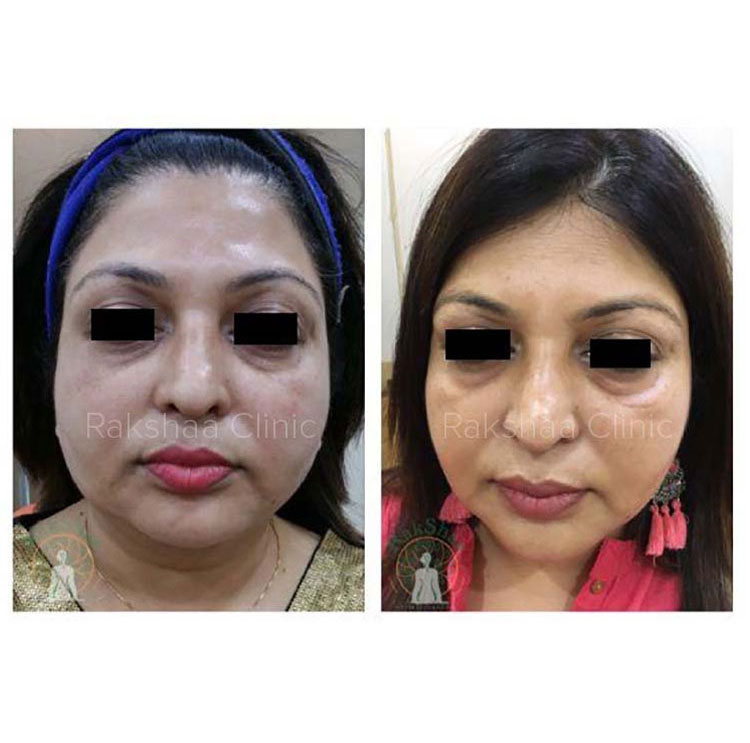 *Opinions / Results may vary from person to person.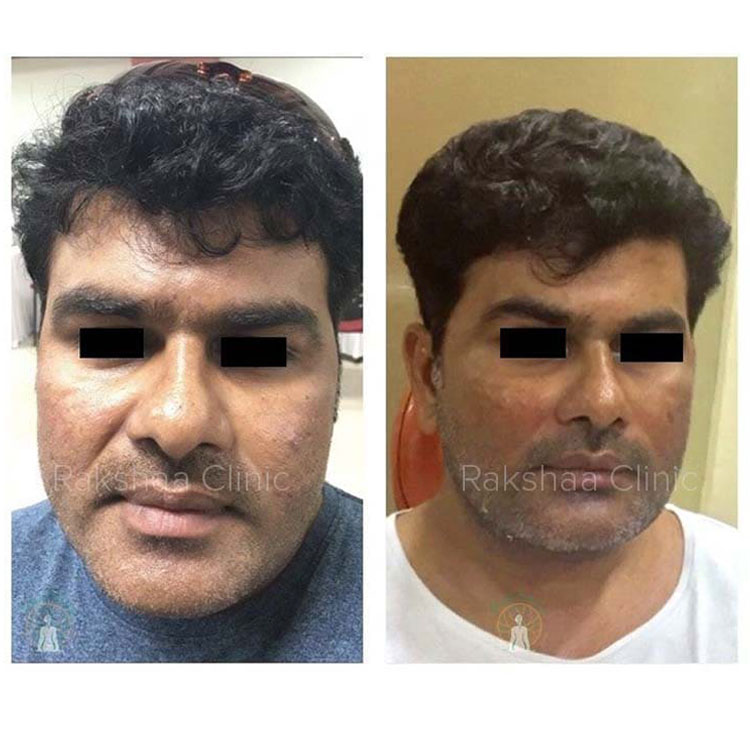 *Opinions / Results may vary from person to person.