Are you the one who has been sick of unwanted hairs on your body? You don't want to go for painful waxing or rough cuts of razors. There are techniques to attain lasting results if you're weary of temporary fixes like waxing or shaving for unwanted hair growth on the body.
Then this blog is for you. This blog will get you straight through the easiest method that can give you permanent reduction of body hair. Your go-to clinic for problems with your skin and hair is Rakshaa Clinic, run by the "best dermatologist in Rohini". We'll let you know why you should visit this clinic for once. Let's get started.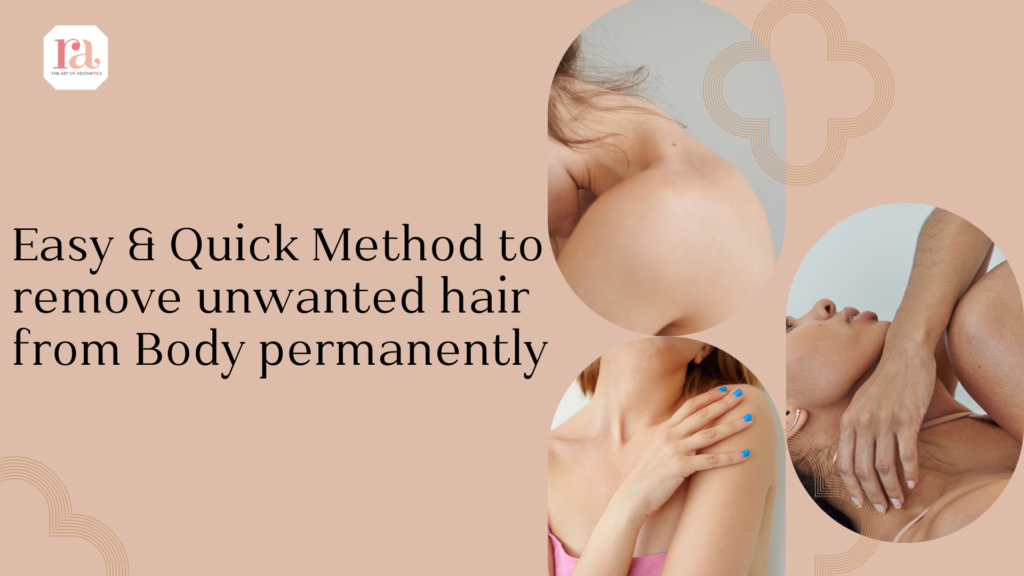 What is Laser Hair Reduction?
The most talked about treatment in the town is Laser hair reduction. Laser hair removal is a process where waves of laser light destroy the hair follicle leading to reduction of hair. It is the simplest and painless method of hair removal. You must have thought of getting laser treatment once by somewhere though it is quite costly so skipped the plan.
Getting Laser Hair Removal in Pitampura:
Laser hair removal is one of the most efficient and long-lasting ways to reduce body hair growth. The "laser hair treatment in Pitampura" offered by Rakshaa Clinic is a secure and effective method for permanent hair removal. Here are some reasons laser treatment is a good option:
Precision: The safe and effective laser treatment accurately targets hair follicles while sparing the surrounding skin.
Lasting Effects: Laser treatment yields long-lasting benefits as opposed to transient techniques like shaving or waxing. Over time, it slows down hair growth, which results in irreversible hair loss.
Slight Discomfort: Many people feel that having their hair removed with a laser to be relatively pleasant, just experiencing a slight heat sensation.
Quick Sessions: Laser treatments are rapid, making them a practical choice for people with busy schedules.
Which body parts can get laser hair reduction?
For individuals seeking a complete approach to permanently getting rid of unsightly body hair, Rakshaa Clinic provides full-body hair removal service includes the following areas among others:
Our skilled dermatologists and cutting-edge technology guarantee that you get the greatest outcomes with the least amount of discomfort. Rakshaa Clinic has the latest technology of Alma Platinum Triple Wavelength Laser device that gets you target fine, coarse, and ingrown hairs all in one go.
Why You Should Visit Rohini's Top Dermatologist?
It's vital to stress the value of seeing a dermatologist, especially when dealing with skin and hair issues, before diving into permanent hair removal methods. You can find the best dermatologist in Rohini in Rakshaa Clinic which provides knowledgeable advice and specialized treatments for a range of skin and hair issues. Rakshaa Clinic is the place to go if you're looking for a long-term cure for undesirable body hair.
Why Pick Rakshaa Clinic as Your Permanent Hair Removal Partner?
Expertise: Dermatologists with extensive experience and knowledge of the complexities of skin and hair are in charge at Rakshaa Clinic. They offer professional direction and specialized treatment programs.
Advanced Technology: Modern laser technology is used by us to remove hair in a safe and effective manner.
Customized Approach: Skin and hair are distinctive to each individual. The treatment plans at Rakshaa Clinic are customized to meet your individual requirements and concerns.
Safety First: Our first goal is patient safety. In a regulated and secure setting, skilled specialists carry out our processes.
Conclusion:
Accept the freedom of permanent hair reduction and wave goodbye to the stress of temporary hair removal techniques. Under the direction of the "best dermatologist in Pitampura," Rakshaa Clinic provides reliable and secure ways to permanently stop body hair development. You can rely on Rakshaa Clinic to provide long-lasting results whether you choose our thorough "full-body hair removal treatment in Pitampura" or choose our "laser hair treatment in Pitampura." Consult with us right now to start your journey to a confident, hair-free self.