Who doesn't fall in love with Baarish? Tip Tip Barsa Paani…you must have danced on!! But unfortunately with the monsoon, there are not so welcomed skin problems knocking on our doors.The monsoon gives a welcome respite from the sweltering summer heat, but it also presents a new set of skincare challenges. Acne, pimples and breakout, you must be suffering and looking for easy-peasy home remedies. Right! But are these home remedies safe and effective?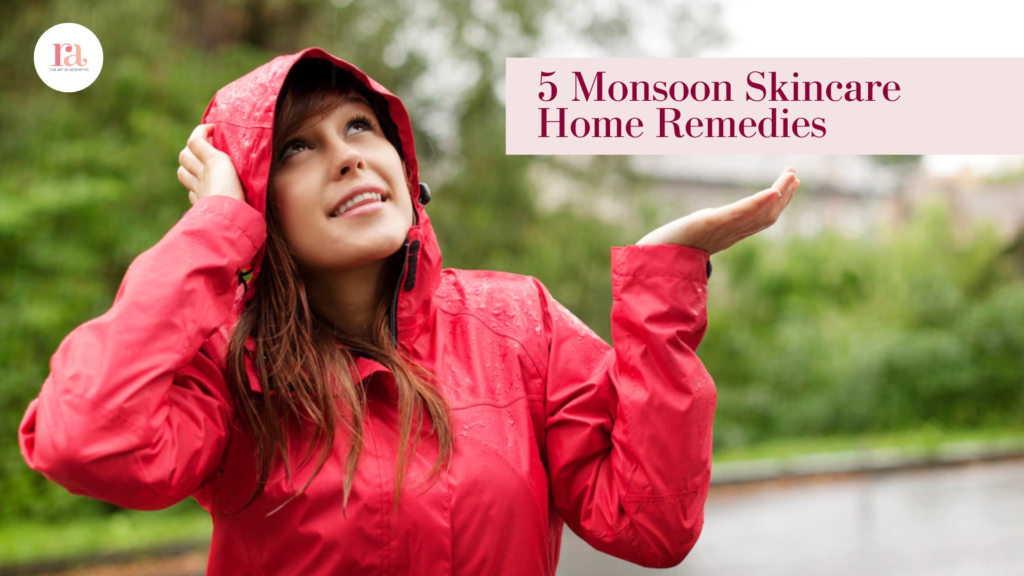 The increasing humidity during this season can be quite damaging to your skin. We got you a comprehensive guide with 5 effective home remedies for monsoon skincare that have been tried and tested, as well as approved by Dr. Rakesh Jangra. We'll also discuss the importance of consulting a dermatologist, emphasizing the presence of a reputable "skin clinic in Pitampura" and the expertise of a "skin doctor in Pitampura in case of severe skin issues.
Monsoon Skin Problems You must Address;
Acne outbreaks: Increased humidity can cause blocked pores and acne outbreaks, causing discomfort for many.
Fungal illnesses: Because of the persistent wetness in the air, fungal illnesses such as ringworm thrive.
Excess Oil: Due to increasing humidity, skin becomes oilier during the monsoon.
Dullness: A lack of direct sunshine and consistent moisture can result in dull, lifeless skin.
These are some of the skin issues you must be concerned about in the monsoon. Without dragging it much, let's check some approved skincare remedies.
Dermatologists Have Approved 5 Monsoon Home Remedies
Neem Face Pack: Because neem has antibacterial and antifungal characteristics, it is ideal for avoiding acne and fungal infections. Make a neem leaf paste and apply it to your face. Allow it to sit for 15-20 minutes before rinsing.
Turmeric and Honey Mask: The anti-inflammatory qualities of turmeric aid in acne treatment, while honey hydrates the skin. To make a paste, combine turmeric powder and honey. After 15 minutes, rinse it from your face.
Multani Mitti (Fuller's Earth) Mask: Multani mitti eliminates acne and controls excess oil. Make a paste with it and rosewater, apply it, and rinse once it dries.
Cucumber and Aloe Vera Gel: Cucumber moisturizes and soothes the skin, and aloe vera is anti-inflammatory. Blend cucumber and aloe vera gel together, apply, and leave on for 20 minutes before rinsing.
Tea Tree Oil for Acne Spot Treatment: Tea tree oil is a great acne spot treatment. Apply it on blemishes with a cotton swab after diluting it with a carrier oil.
Home-remedies work great but it takes some time to get you results. Meanwhile, dermatologists recommend following a simple skincare routine that helps you get that flawless skin if you don't have time for these remedies. This is not new or not something that you don't know. But we need some expert to advise us on this. That's why listed simple skincare routine, you must adapt in your daily life routine.
Gentle Cleansing: During the monsoon, a gentle sulfate-free cleanser is your greatest friend. Use it twice a day to eliminate debris and excess oil from your skin without stripping it.
Exfoliation: Exfoliating on a regular basis is vital for removing dead skin cells and preventing dullness. Use a gentle exfoliant that is appropriate for your skin type.
Toning: A gentle toner helps to balance the pH levels of your skin and decreases the appearance of pores.
Moisturization: Even in humid conditions, moisturization is essential. Choose a non-comedogenic, lightweight moisturizer.
Sunscreen is required at all times, even on cloudy days. Choose a broad-spectrum sunscreen with at least an SPF of 30.
When to Seek Expert Advice from a Dermatologist
While home remedies might be helpful, it is critical to see a dermatologist if you have recurrent skin problems or serious disorders. Dermatologists can identify underlying issues and recommend treatments customized to your skin type.
Best Skin Clinic In Delhi
The availability of a best skin clinic in Pitampura makes skincare solutions more accessible for you. These clinics provide specialist care that is geared to the specific problems of the local climate. One of the best skin clinics in Pitampura is Rakshaa clinic.
Finally, get your skin ready for the monsoon.
Enjoy the monsoon season with confidence, knowing that you can keep your skin healthy and bright with these dermatologist-approved home remedies. You can keep your skin glowing even when the weather isn't cooperating by following a simple skincare routine and integrating some powerful home treatments. If you are struggling with some severe skin issues, then remember to contact a best dermatologist in Delhi of Rakshaa Clinic. Your skin can withstand the monsoon with the proper treatment.